Thinking about joining this hustle too?
Don't fret we are here to break it down to you everything you need to know!
The anxieties and trepidation of making a career choice well haven't we all been through the same route?
So, let's break down one of the famous schools of India Bengaluru the Masai School
Hoping to answer the big questions!
Why is this review needed?
Oftentimes, growing up it was hustle on what institution makes up the foundation of your dreams. You need to be confident, invest in a sound place, and learn from the experience of others for this important life decision. The overthinking, watching dozens of videos on the internet, struggling for a job even with a degree? This has to stop! and if you have landed at the Masai School this Masai School Review is just for you!
" Why Masai School?" and is " Learning Coding at Masai School worth it?
What Masai School is offering?
Masai School claims to be an e-learning platform. It has various courses that make someone completely skilled in web development. Certain conditions that Masai School has, are that it asks the user to pay a total of zero upfront fee and give them a share of 15% of your salary package after graduating from the institution and landing on a 5 LPA.
Following courses are offered in Masai School.
Courses:
1. Full Stack Web Development (30 Weeks) ~ Full Time
2. Full Stack Android Development (30 Weeks)
3. Full Stack Web Development (30 Weeks) ~ Part-Time
Debunking the Masai School
Masai School is one of the most competitive environments, where individuals are diligent for an entry test and then for the sequel of course-outlines to finally landing on a Dream Job!
Sounds Fascinating?
Let's dig in!
How Masai School lands you on your dream job!
Pros of The Masai School- The Brighter Outlook
1. Complete Course: Masai school offers a COURSE to become a coder of tomorrow, with graduation, although it does require a test but have you ever heard someone landing on a job with just a course? It is a rarity most software houses either ask for a degree in Computer Science or Software Engineering. Masai school does provide you with the skills that you need without enrolling into a graduating campus.
2. Boosted Confidence: The ability to crack assignments, which might be hard for you to do, brings up your confidence and enables you to step up your game. Masai school is a strong workforce for building your portfolio and giving you the push that is required.
3. Privilege to Students with Gap Year: The guarantee of landing on a job, rules out the difference between someone with a gap year in education. If you have been thinking you are left behind as compared to your colleagues, well not anymore. You just need skills, once you are in the grind you are good to go!
4. Personality Development: The strict environment makes you not only punctual but also disciplined to acclimate to the challenges of the time. You strive and get out of your comfort zone and break your boundaries. You can you have to do it and you will!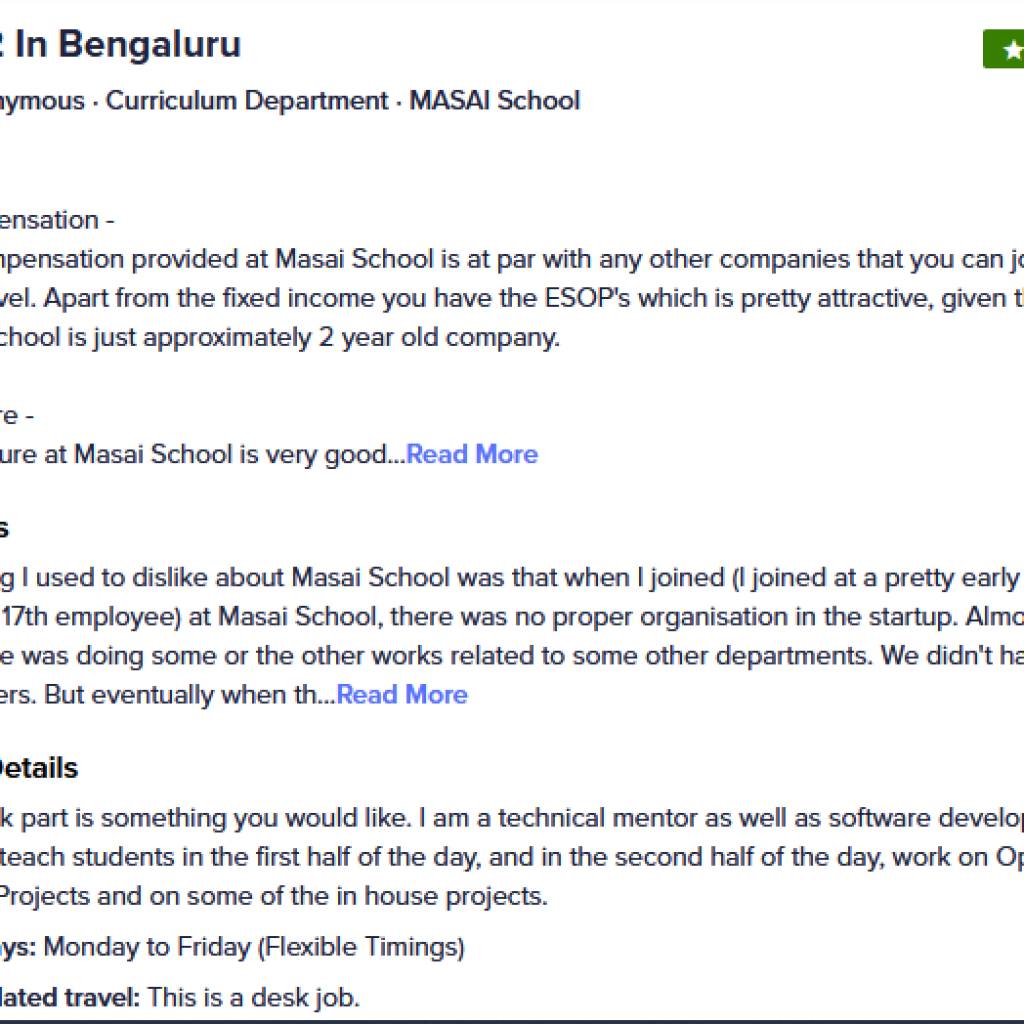 Some top-notch review offered by someone on the ambition box.
But is it all just good?
Some points that might not make Masai School the best fit.
5. No Financial Burden:  It is a rare option. Where you have to give nothing from your pocket, get a job and pay back it is this simple! It is a huge offer for someone with financial crises, students and those who are starting new and someone who is just hoping for a practical job experience.
6. Conditional Payment: The fact that Masai School doesn't ask you to pay anything if you land on anything below than what they are confident about! It is clear indication that they know what they are doing and they are confident about it.
7. Less Resources: It is an online platform which means no additional expenditures, comfort zone and ability to learn and understand whenever you find it convenient. Grab a cup of coffee settle in, learn and go out there and start working!
Why Masai School might not be for you!
Cons of The Masai School- The Down Side
1. Minimum LPA Package and ISA: In the recent past the salary package of paying them back has gone down from 6LPA to 5LPA but, the ISA amount is the same i.e., 3 Lacs. Which could have been bettered as the salary package is decreased a bit. But that can be because of the addendum in inflation, right? Initially, the option of having Upfront Payment Fees was removed, leaving us with only ISA. The ISA offered by an institution might not be the best thing that they provide. 
2. Hard Amplitude Test: The admission test might not be the easiest thing to crack, well even if you cheat on it. The strict guidelines will declare you an outlier if you copied! Having no sample test and even after selection, your deceiving will come out. So don't Cheat!
3. Limited Career Option: Once you have been through unit one, it won't be possible for you to leave the course, even due to emergency reasons you will have to either start over from chapter one or pay up to 3 lacs. The option of landing on another job is diminished because you have to pay them back.
The review on a website ambition box highlights the negative effects that the program might have. A detailed insight on how the Masai School facilitates its employees.
4. Similar to Free Courses: The Internet is a free source with knowledge at a click away, so what is the striking difference between other institutions and their courses. The outlines formulated by Masai School is differentiating from all others inline? This is not a sure thing to say.
5. Forceful Acceptance: The most thought-provoking disadvantage the Masai school might have, is the fact that you can't say NO to the job offer even if you have reasons like commute problems, residence in another place, or simply just because you don't want to accept an offer! This can be a downside as it might limit you.
6. Little Savings: The amount paid of the earning that you are finally getting, (Thank God!) is going to take your sweat and blood away because why not? 15% of the money with an additional 18% doesn't it seem like a little too much, it leaves with hardly any savings, less insurance money, and scarce resources for kitchen money!
7. Defined Career Path: The option of changing your career path is little to none, you can't choose another thing. You have to go out there and get a job and then return the investment they had in you. Haven't you heard success stories of people who have been through thick and thin and then Wham! a revolt! Meh! that can be a little hard for you now, maybe just a Ted Talk Away. 
Definitely a Yes! After all, how hard can it be to say yes to the first job you are offered? Being asked to pay for your courses only after you have a secure source of income, is a huge step to reduce the stressful life under student loans. The positives condone the negative side. You can have the first-hand experience with nothing to pay! So, what is stopping you? Your effort is polished by the skills inputted. The best chance to get a job without the student burden.
Don't Let the battle of benefits hinder your learning!
In the end, any institution good or bad will most likely depend on you! the energy you invest in it. The skills you would have acquired and how you hone them with each passing second. So dwell not. You want to learn coding go ahead nothing is going to stop you if you are passionate enough! The school is going to be a ladder towards your destination you can put your step into!
So, want to take a chance? Apply now!